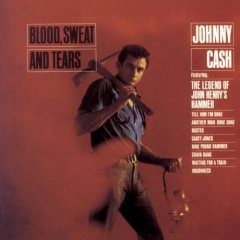 Blood, Sweat and Tears
"For this 1963 concept album, Johnny Cash assumes the voice of the American worker, lending his booming baritone to both traditional and modern folk ballads and blues. ""The Legend of John Henry's Hammer"" becomes a majestic eight-minute suite that expands upon the original story of the ""steel-drivin' man"" with powerful dramatic effect. ""Another Man Done Gone"" receives an eerie a cappella reading with June Carter, while ""Casey Jones,"" the old blues about the engineer, rides along with sprite banjo and background harmonies. Cash also offers unique interpretations of more recent compositions. Both Jimmie Rodgers's ""Waiting for a Train"" and Merle Travis's ""Nine Pound Hammer"" are taken at a relaxed, gently loping pace and with a more subdued outlook than their original versions. Harlan Howard's classic ""Busted"" works marvelously as Mother Maybelle's bright Autoharp contrasts with Luther Perkins's deliberate twang and Cash's laconic delivery. Through it all, Cash brings out the inner strength and dignity of his toiling protagonists"

1. The Legend Of John Henry's Hammer
2. Tell Him I'm Gone
3. Another Man Done Gone
4. Busted
5. Casey Jones
6. Nine Pound Hammer
7. Chain Gang
8. Waiting For A Train
9.