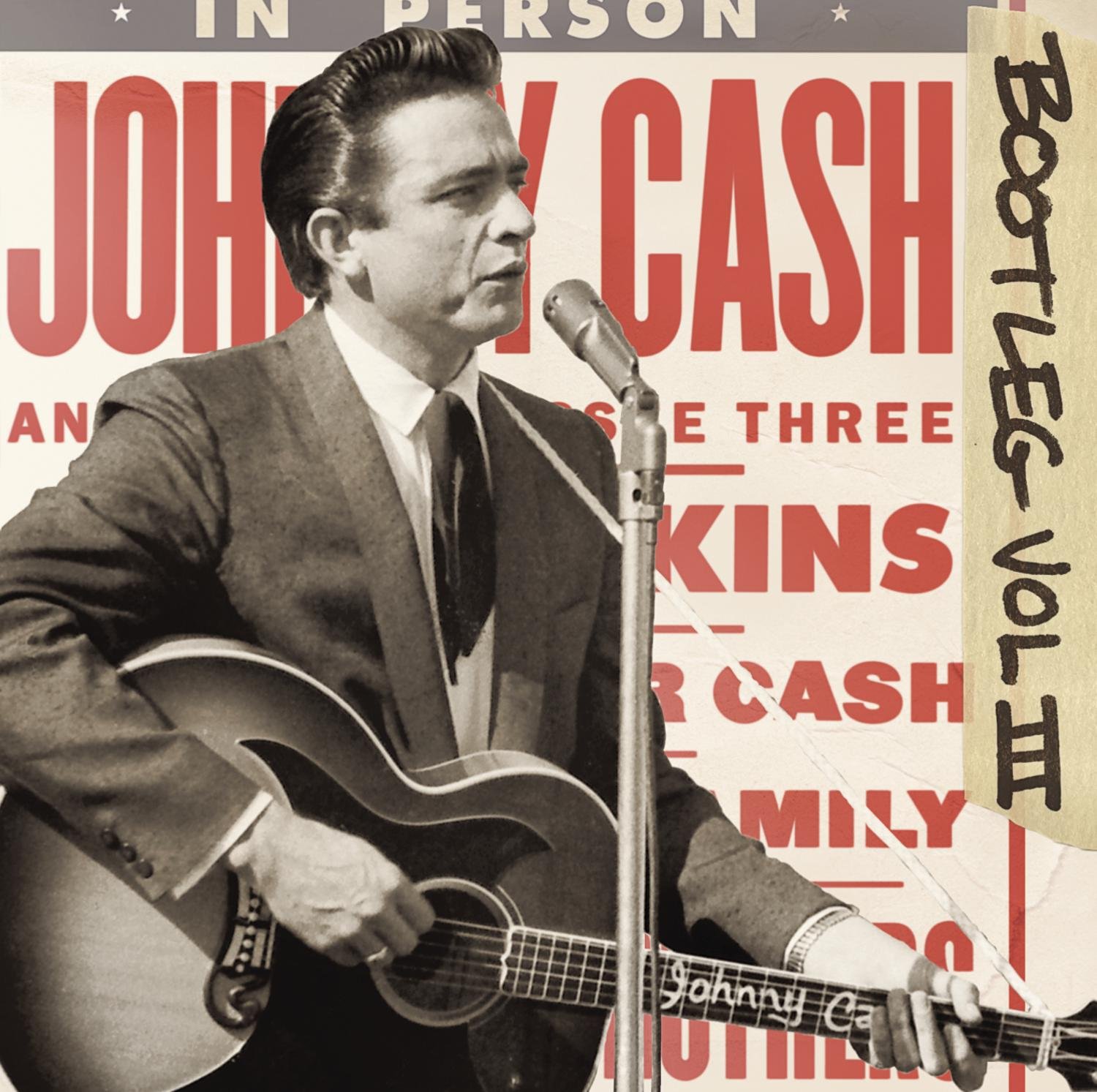 Bootleg Vol. III - Live Around The World
Johnny Cash Bootleg lll: LIVE Around the World is a collection of 53 rare and unreleased LIVE recordings. It is a travelogue from his earliest days on the road at the Big D Jamboree in Dallas Texas in the 1950's - through to his becoming an International Superstar and a great statesman ambassador at the White House in Washington, D.C. in the 1970's.
Johnny Cash along with his wife June Carter Cash and their touring group and family moved about the planet and shared an openness - catering to the needs of the people - carrying the spirit of America and it's people - the music - love - tradition - caring - tolerance and adventure. This set documents those historic tours and the bond between Johnny Cash and his fans.
Johnny Cash's America was everywhere - His fans are all around the Globe. People from all walks of life rallied around Johnny Cash and he rallied around them. All people - young and old - both sides of the aisle - from the Bible Belt to the Federal Prison - Bikers and priests - from the White House to the juke joint - the country folk - Folkies - Rockers - soldiers and protesters - workers and slackers - Generals and hippies. Johnny Cash's world had room for everyone. His fans were everyone, and they still are!
This album gives an overview of his touring musical life and of the love this artist had for people around the world and their responsive support right back to the Man in Black. He spoke to and for the common man, and the common good. Johnny Cash is one of the most important and beloved musicians and leaders in history.

Johnny Cash LIVE: at the Big D Jamboree in Dallas Texas
The New River Ranch - a country hoe-down in rural Maryland
The Newport Folk Festival in Rhode Island
The Battlefields of Long Binh, Vietnam
The White House - Washington D.C. (introduced by President Nixon)
Osteraker Prison in Sweden
The Carter Family Fold in Virginia
The Wheeling Jamboree in Wheeling West Virginia
The Exit Inn in Nashville
and more!

A must-have for any Johnny Cash fan.
Disc: 1
1. So Doggone Lonesome
2. I Walk The Line
3. Get Rhythm
4. Country Boy
5. I Still Miss Someone
6. Cotton Fields
7. I Walk The Line
8. Luther s Boogie
9. Impersonations
10. Rock Island Line
11. The Rebel--Johnny Yuma
12. Introduction Pete Seeger
13. Big River
14. Folsom Prison Blues
15. I Still Miss Someone
16. Rock Island Line
17. Don t Think Twice, It s Alright
18. I Walk The Line
19. Ballad Of Ira Hayes
20. Keep On The Sunny Side
21. Big River
22. Wreck Of The Old 97
23. Tennessee Flat Top Box
24. Remember The Alamo
25. Cocaine Blues
26. Jackson
27. Long-Legged Guitar Pickin Man
28. Ring Of Fire
29. Daddy Sang Bass

Disc: 2
1. Introduction President Richard M. Nixon
2. A Boy Named Sue
3. Five Feet High And Rising
4. Pickin Time
5. Wreck Of The Old 97
6. Lumberjack
7. Jesus Was A Carpenter
8. What Is Truth
9. (There ll Be) Peace In The Valley (For Me)
10. He Turned The Water Into Wine
11. Were You There (When They Crucified My Lord)
12. Daddy Sang Bass
13. The Old Account
14. Sunday Morning Comin Down
15. The Prisoner s Song
16. That Silver Haired Daddy Of Mine (G. Autry-J. Long)
17. City Of New Orleans
18. Ragged Old Flag
19. One Piece At A Time
20. Hey Porter
21. There You Go
22. Give My Love To Rose
23. (Ghost) Riders In The Sky
24. I m Just An Old Chunk Of Coal