For years, Johnny Cash doodled, sketched and, eventually, painted. He did so informally and never gave a thought to the fact that his work would have appeal to the fine art community.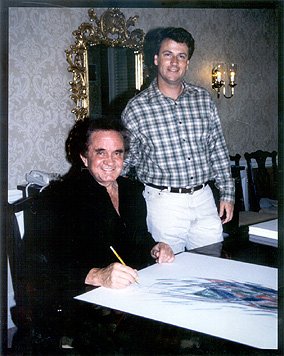 In 1993 Cash showed his friend, Bill Miller, a painting he did entitled "Flight." Miller immediately told him that the abstract impressionist work should be published and made available to collectors the world over. Johnny gave Miller permission to publish "Flight" and offer it to collectors.
The art gallery community went wild when they were shown the painting. If Cash could produce more works in order to satisfy collector demand, he would become an in-demand, collected artist. Unfortunately, due to his exhaustive touring and entertainment schedule, "Flight" would be the only painting ever published.
"Flight" was published as a high quality, hand-pulled serigraph. Crafted onto the finest art paper in the world, heavy Arches 100% Cotton stock, each color has been hand-pulled by using a screen process resulting in a print as close to the original as possible. The prints have never seen a printing press; rather every one was made by hand, each taking hours to complete.
The 30 x 40 inch serigraph is hand-signed by Johnny Cash, and each bears a unique number indicating its number of the 350 limited edition. There is no rarer, more desirable or important Johnny Cash collectible hand-signed by Johnny. Certificate of Authenticity signed by Bill Miller is included. Print is shipped unframed. Framing is not included. Autographs and memorabilia on this site are non-refundable. Please allow 3-4 weeks average for item to be unarchived, packed and shipped.